Dovahskin;
A Skyrim-Inspired
Website
Being an undergraduate when Skyrim launched back in 11/11/2011, I knew it was time to put my life on hour as I poured hours and hours into the game. Back in 2012, I took a module in University where we had to design and develop a website, that would be graded at the end of the semester. I thought to myself, why not put myself in the shoes of a merchant in Skyrim, trying to start my very own ecommerce store?
And voilà! Dovahskin was born!
UI/UX · Web Design · Web Development · Fun Project
Web Designer · Denise Koh
Introducing Dovahskin, the provider of premium skyforged steel! You will find an online catalogue of our greatest and latest one-handed or two-handed weapons.
Honestly, I can't quite express how excited I was when I was planning and designing every little detail of the website. From the waxed seal logo to the delivery methods of "Mail of Haste" (dragon) or via "Normal Mail"(horse).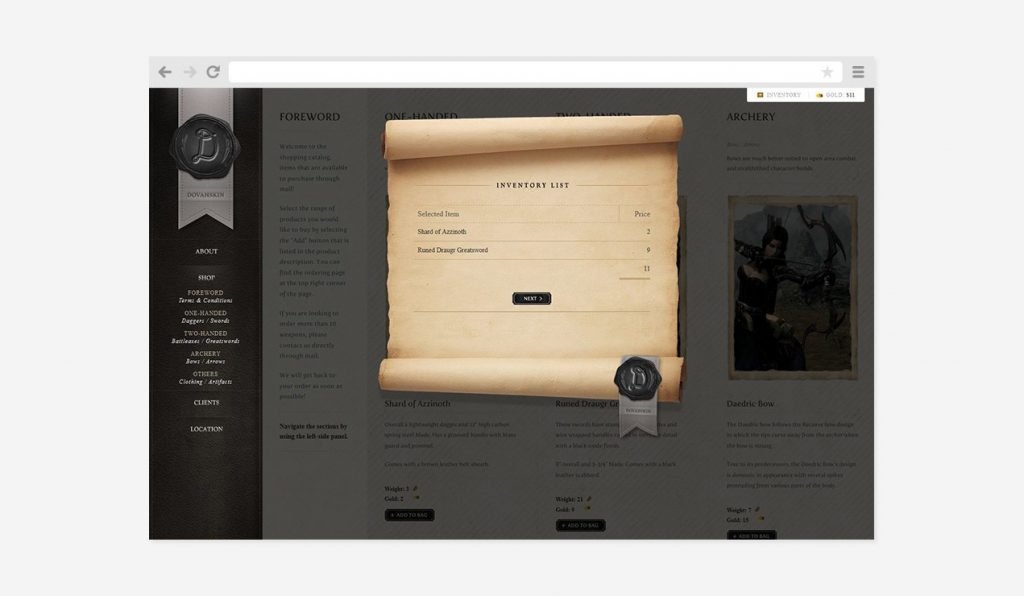 If you are interested to browse the live version of this website, drop me a message!